Featured Blogger Shout
It has been more than a year my relationship with blogspot is on and off but one thing for sure, I have always visited the same blog that I enjoy to read from time to time. They are the people that gives me inspiration and aspiration. Perhaps a hint of jealousy is in order as some of their pictures are truly breathtaking and some are just purely beauty.
I do enjoy discovering new blog to read and new ideas, perhaps with this share of my favorite blogger, you too can discover new blogger to follow....
To start off this segment, blogger that I enjoy to read her post from her style , make up and just simply about her is

Maryam Maquillage.
I've been following her since about 2 years ago. I've always see her as very passionate and supportive women. Such an exotic beauty, her face feature is to do die for. I mean her cheekbones are ah-mah-zing! Anyway, before I sound very much a lesbo, she have enormously talent for make up and it always turns out flawless.
❤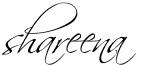 ❤